Bookmark this one and send it to your nearest and dearest (I know I will!). I've compiled it with some help from The Sewing Directory, who maintain a fab Pinterest board of gifts for people who sew. I've tried to limit the list to gifts that will be small enough to fit in a stocking, and which will also be useful (and/or beautiful!) for both dressmakers and quilters, and aren't too taste dependent – so fabric is not included (I know, it's shocking!), but I admit, the jewellery is totally my taste, so I can take no responsibility if the sewist you are buying for has different ideas about bling!
Flower head pins from Dragonfly Fabrics – £2.80 for pack of 60
Fine pins, with flat heads that you can iron over (result!). You can never have enough pretty pins.
Sharps Pebble from John James Needles – £1.39 for 16 needles
John James are great quality needles, and these come in a cute little pebble-shaped storage container. Sewing machine needles (also available from John James) make a great stocking filler – 90/14 is a useful size for most sewers.
Bobbin Buddies from Creative Grids – £4.00 for pack of 10
Fab little clips (see pic) that cleverly keep bobbins with their associated reels. Creative Grids have lots of other fun storage solutions for bobbins and reels which would make great stocking fillers – well worth checking out!
Merchant and Mills sewing guage – £3.50
To make sure that seams and hem lines are always accurate! A really useful tool – and this is a particularly stylish version.
Sublime Stitching embroidery thread collection from Cloud Craft – £4.95
A beautiful set of the trendiest of embroidery threads – there are other colour combinations available if this doesn't appeal. If you are buying for a sewer who loves embroidery and hand stitching, you might also want to check out these cute mini-hoops for stitching.
***
Seams hand cream – £9.50
Non-greasy hand and nail cream – originally formulated in a couturier's studio. Apparently this soaks in really quickly so there's no worry about leaving greasy marks on fabric when you are sewing.
Simple clippy coin purse making kit – £9.99
An adorable kit (available in lots of fabric variations) from my sponsors My Fabric House. My Fabric House also have fantastic voucher options in £20, £30, £50 or £100 denominations.
Merchant & Mills pin magnet – £5.50
Super-stylish and entirely practical way of avoiding those pin-meets-bare-foot incidents… There are lots more goodies on the Merchant & Mills site that would make fantastic stocking fillers.
Fiskar's Thread Snips from Sew Essential – £8.40 
I want some snips in my stocking this year! These are by the ever-reliable Fiskars – there are cheaper options for snips on the Sew Essential site, if you are on a budget.
Hera marker by Clover from Sew Essential – £5.81
Clover are the trendiest and most wonderful of notion and sewing tool creators – and a Hera marker is an indispensable tool for any stitcher.
***
Set of Pigma Micron pens in assorted colours from Create and Craft – £11.99
These pens are valued by designers, dressmakers and quilters for their fine points, lack of bleeding, and permanent, washable, fadeproof qualities.
Silver hexagon earrings by MadeByDeaW on Etsy – £15
Everyone's favourite English Paper Piecing shape! Lucky me, I already have a pair of these – they are absolutely gorgeous.
Janome Soft N Sharp Scissors from Sew Essential – £24.24
I can't speak highly enough of these scissors. I've had mine for nearly 10 years and they are as sharp as they ever were, even though I have lost count of the times when I have 'accidentally' cut paper with them…
Clover Stack n Store Bobbin Tower from Minerva Crafts – £18.99
Bobbin storage that also prevents the thread from unravelling – genius!
Kam Snap set from Plush Addict – £12
Brilliant device for inserting cute snap fasteners in pouches, bags, clothes and more. I have one of these and completely love it. This kit comes with everything you need to get going, including some free snaps.
***
Fabric voucher from Dragonfly – £47 for a £50 voucher
Great value gift vouchers (that also come in £25, £75 and £100 denominations) from my sponsors Dragonfly Fabrics. Many other fabric shops have voucher options available – you can check out my Big List of Fabric shops to see what appeals.
Leather Journal from Bound (Susan Green) on Folksy – £90
Beautiful bit of useful gorgeousness from Susan Green. Great for jotting down ideas, stash lists and pattern notes.
Boxed set of Aurifil threads from Marathon – starting at £76.50
Most stitchers agree that these Egyptian cotton sewing threads are some of the best around.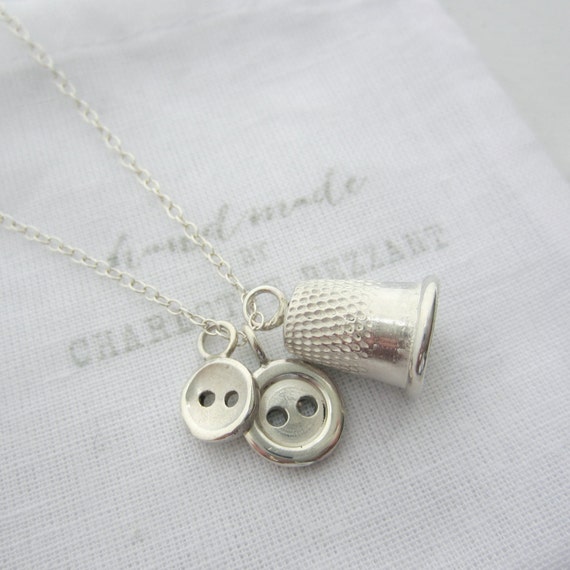 Thimble and buttons handmade silver necklace by Charlotte Bezzant on Etsy – £120
I couldn't resist including this beautiful necklace!
***