We're off camping next week… so I'm thinking about holiday food. I love cooking and eating outdoors.. it's one of the great pleasure of camping for me. But, whilst we're away I like to to do the absolute minimum of food shopping and we certainly don't have much room in the car to take much with us. I think in the past that this has meant that our camping food has got a little bit same-y (BBq'd sausages EVERY evening?), and this year I'm determined to be more organised, and try and inject a bit more excitement into our camping meals.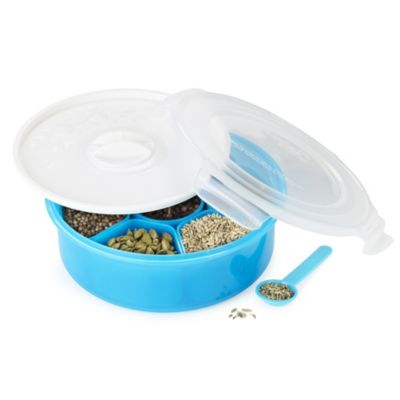 One thing I've struggled with in the past is transporting herbs and spices – which are essential to pretty much everything we cook, when we're at home. But it's not like you can pack your jars & packets of black mustard seeds, cumin seeds, coriander seeds, garam masala & cayenne pepper if you fancy an authentic curry..  In the past I've taken spices in little zip-lock bags, but they are so fiddly and tend to get lost in the bottom of our food box. This year I have splashed out on one of these little Lock and Lock Small Spice Stores from Lakeland. I fell for its cute looks as much as anything, and the cute little teaspoon it comes with. I'll be making up some spice mixes to go in the little compartments, so I can cram in as much as possible.
I've also been looking at camping cookbooks (I imagine that there are 1,000s of Scout & Guide leaders who laugh hysterically at the very idea…). I picked up The Camping Cookbook by Annie Bell (a favourite food writer at our house) from the library, and have been well entertained by it. There are some fairly mad recipes that would take forever to cook, so only really good for people using a campfire… (who could afford all that gas??), but there are also some blooming great ideas – many of them in the 'why have I never thought of that?' category. For instance, Chocolate Toasties, made by melting plain chocolate inside pitta breads in a hot dry frying pan… or what about skewered Bonbon sweets over the BBQ or campfire – yes please!  She also has some excellent equipment recommendations – I have spent the last week resisting the temptation to buy one of these gorgeous nesting sets – Nest 8 – from JosephJoseph. So practical for camping, but at nearly £40, I have to do a bit more thinking about just how much I need it.
Although the Annie Bell book is good, I think I prefer The Camping Cookbook, which I picked up cheap in one of those discount bookshops. It feels like it's more aimed at the festival kind of camper rather than the (sorry Annie) more glampish tone of the other book, and more practical as a result. There are more one-pan recipes, fewer hard-to-get-hold-of ingredients (important when your only source of groceries is a Spar), and more dishes that can be whipped up in a hurry – always a bonus if you've spent a bit too long out and about and everyone is starving!  There's lots of fab pancake recipes (brilliant for camping) and also a recipe for 'mini-dampers' a bread roll that you can cook in a pan, which will be massively useful if you've missed the fresh bread delivery.
One thing I have learned from experience is that you can never have enough cake when you're camping. I'm going to spend time this weekend making a squishy ginger cake (recipe tomorrow), and some of this wonderful fruit teabread, which is a great snack, or makes a very useful stand in when you've forgotten to get any supplies for breakfast (again…). Oh yes, cake for breakfast has to be one of the best kept secrets of camping…!