Sewbox are now stocking Liberty Tana Lawn and Liberty City Poplin as well as the gorgeous Liberty Jerseys that I mentioned last week. Susan has these fabrics at a special introductory offer of £11.50 per metre rather than the usual price of £13.75. Also, until 31 May, anyone making an order of more than £15 from Sewbox gets a special surprise sewing gift.
***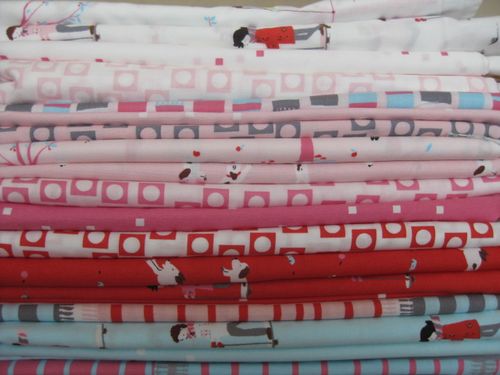 Prints to Polka Dots has some of the highly desirable Sherbert Pips fabric available on pre-order. The order will be placed on Wednesday 13 April – so now is the time to go and get buying. If you're not familiar with this gorgeous collection by Aneela Hoey (here's her lovely blog) then you should really check it out – it's lovely and quite out of the ordinary. If you haven't got the pennies to buy right this minute then you could wait for it to come into stock at Sew Me Happy in May.
***
While you are at Prints to Polka Dots it's worth checking out their expanded Haberdashery collection to take advantage of the 20% off offer (code HH11).
***
Because I'm definitely not a big fan of Royalty (bah humbug) I wont be doing Royal Wedding themed crafting, but if you are, then you might like to know about these cute Red, White & Blue goody bags from Blooming Felt, available for only £9. So cute, I'm tempted in spite of myself…
***
If you pop round to Calico Laine's Facebook page and leave a message saying what you'd buy from their store, you can be in with a chance of winning £20's worth of goodies. Another Facebook offer comes from Crafts and Quilts – who are currently including surprise gifts in orders made by Likers of Crafts and Quilts on Facebook.
***
There's a giveaway over at every-wonderful Eternal Maker. You just need to leave a comment about your favourite Japanese fabric over on their blog in order to be in with a chance of winning one of scrap bags. The Eternal Maker also has a brand new Facebook page – you can sign on as a Liker just here.
***
I was over at The Fabric Loft reading Lizzet's lovely blog post about using scraps and discovered that she is now selling scraps in packs of 100g. What a really excellent idea – it reminds me of buying a quarter of sweets when I was a little girl – which can't be bad.
***
Finally, there's still time to sign up to The Sewing Directory's competition in conjunction with Cloud 9. The prize is a FQ bundle (2 available) of Cloud9's lovely Nature Walk Collection. Good luck!