Sew Me Happy is having a giveaway of one of their new Tutti Frutti bundles – a yummy mix of Anne Kelle Confections fabrics and coordinating Dumb Dots from Michael Miller.  All you have to do is post a message on the Sew Me Happy Facebook wall saying you'd like to enter by 9am on Monday 21st Febuary – so hurry up!
***
M is for Make have a special offer on their knit fabrics from Patti Young – there's up to 40% off these lovely fabrics, so it's worth a look. Also, as previously mentioned, the M is for Make Japanese Sew-Along is on now – you can read more about it, and sign up to sew-along by clicking on this cute badge.
***
I really like these patterns for kids' clothes from Figgy's that are new in stock at Backstitch. I have a real fear of working with knit fabrics, but maybe I need to get over it because I'd like to make some funky tops for my boys. If you are as nervous as me, then there's some brilliant information here on the Figgy's website about how to sew with knits. Or another option, if you're keen to try out sewing with knit fabrics, is to get hold of a copy of the latest issue of Stitch magazine (Interweave) – the Spring 2011 edition includes a technique spotlight on sewing knits. You can read more about this issue, and purchase a copy of Stitch from Hulu Crafts.
***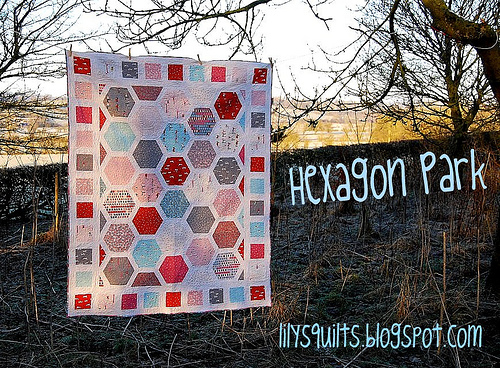 A new quilting website to me is Lily's Quilts… it's a wonderful read if you are into patchwork and quilting – with masses of lovely pictures, inspiration and hints and tips. It's written by Lynne who is obviously a very talented quilter indeed – just check out this picture of her gorgeous hexagon quilt made using Sherbert Pips fabric (you can find the pattern for this gorgeous quilt over at the Moda Bake Shop). Another reason to visit at the moment is that there's a giveaway of a layer cake of the much anticipated this Sherbert Pips Collection from by Aneela Hoey for Moda. You need to leave your comment by 27 February.
***
If you haven't called by at River Fabrics recently, then it's well worth a visit – I am always SO impressed by the selection of fabrics there, and it's recently become even more brilliant because they are stocking a lovely wide range of Kona Solids from Robert Kaufman. I love a shop where you can get everything you need in one place!
Another fabric shop which has really impressed since its launch is Sewbox.  Its founder, Leah, has put a huge amount of effort and energy into creating a 'must-visit' destination for fabric lovers. Leah has now decided to concentrate of being a full-time mum for a while, and Sewbox is going to have a new owner – you can read all about it over on the shop blog. All the best to Susan Stevenson as she takes on her new venture and to Leah as she gets to spend more time with her little girl.
***
And if you fancy making some purchases, but can't quite afford fabric at the moment (or is that just me?!), then maybe you could stretch to a few buttons to brighten up your stash. The Sewing Directory has a lovely little list today of good places to get cute buttons… And you've just got time to enter the giveaway (closes 6pm on Tues 22 Feb) to win a copy of Lisa Lam's The Bag Making Bible.
***
I've just popped round to the fabric heaven that is the True Up blog, to see if there's anything going on over there thatI can pass on to you… and done a sharp intake of breath at this giveaway of gorgeous wovenwool fabric from Heavens to Betsy. How lovely is this fabric? Sadly, you don't get to win all of it (don't be greedy!), but if you sign up before Wed 23 Feb, you'll have the chance to win a little bit… I have my fingers firmly crossed!
***